Waltrip High School


Class Of 1966

August 2012 Reunion pictures
Pictures are on the Class of '67 website. You may view them here.
---
Love Street Light Circus Feel Good Machine
1019 Commerce
Love Street photo courtesy theHAIF.com

Love Street Light Circus Feel Good Machine opened on June 3rd 1967. The bands included the Red Crayola, the Starvation Army Band and Fever Tree. The audiences sat at tables or in the Zonk-Out, a series of cushions with back rests. Despite being open barely three years it hosted a who's who of Texas psych: the Red Krayola, Erickson's Thirteenth Floor Elevators, Johnny Winter, Bubble Puppy, Shiva's Headband, Fever Tree, Gibbons's pre-ZZ Top band Moving Sidewalks and American Blues, featuring his future bandmates Dusty Hill and Frank Beard. Appropriately enough, it was also the site of ZZ Top's first shows on July 4 and 5, 1969.

Love Street building in 2000
David Adickes was the original owner/manager/light show projectionist. Sgt. Cliff Carlin came on board to manage it by late '67. Adickes sold the club outright to Carlin later. By '69 (perhaps earlier) International Artists had a stake in it as well. Love Street tried to branch out into Corpus Christi and San Antonio with little success, and closed down in Houston on June 6, 1970.
The 3-story building which housed Love Street on the third floor is still there on Allen's Landing. It's been empty for many years. From the outside it doesn't look like a very big place.
La Maison
La Maison started in the summer of 1964 as "La Maison du Cafe" in a house on the corner of San Jacinto and Wichita. The owner's name was George Massey. It was actually IN an old house, which explains the "chic" French name. It became "La Maison Au Go Go" in the summer of '65 when it moved to the church on the corner of Bagby and McGowen...lower Montrose. By that time a guy who worked as a cameraman on the Larry Kane show, Jerry Clark, was involved. Folk music was dying so it became a rock and roll club. The Six Pents and the Baroque Brothers were the house bands there.
By late '65 they'd outgrown the church
and moved to 1420 Richmond (formerly a Weingarten's store). This location is where the 13th Floor Elevators played their legendary early Houston gigs. Then the crowds started falling off, so they moved back to the church location by June of '66. Whether or not the 13th Floor Elevators ever played there is uncertain. Jerry Clark insisted that the 13th Floor Elevators played there New Year's Eve '67 (ie, Dec 31, 1966), but I don't know whether to believe him. His chronology was somewhat screwy. It's doubtful that the club lasted much into '67. There was a Houston Chronicle from April, 1967 article mentioning that the "Red Crayolas" (sic) were playing a fashion show there, but they refer to it as "an old church" and not La Maison. Another newspaper article from around that time specifically refers to it as a club that's closed. I'm told it became a communal type place for Jesus Freaks in the late sixties. It was demolished in the early 70s.

The Catacombs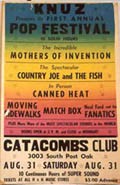 Opened December, 1965. The first Catacombs was located at 3003 South Post Oak. They held Houston's first (only?) "Pop Festival" in that place on August 31, 1968. The show included the Mothers, Canned Heat and, of course, the Moving Sidewalks. Was sponsored by KNUZ radio (an AM station that was a rival to KILT). Catacombs also promoted (or was associated with) a number of other concerts at the Music Hall. Of Our Own took over their University/Kirby location in 1970.
A number of great bands played at the Catacombs. Even Jethro Tull played there on their first US tour. Other national acts include the Shadows of Knight, the Outsiders, the Cyrkle, and the Seeds. They also promoted bigger shows at the Music Hall. Cream and Vanilla Fudge is one example on 3/31/68 (understand VF didn't show up). Another was Eric Burdon, Heir Apparent and the Moving Sidewalks (also 1968) and a 4/4/69 concert with Spirit and Nazz (promoted as the first pop festival of the spring). For anyone interested, the bands at the Catacombs' 8/31/68 pop festival included Mothers, Canned Heat, Neal Ford and the Fanatics, Country Joe and the Fish, the Moving Sidewalks and Matchbox. The posters for these events were split fountain "window cards" (14x22) made of cardboard with no images. Kinda bland, but cool in their own way.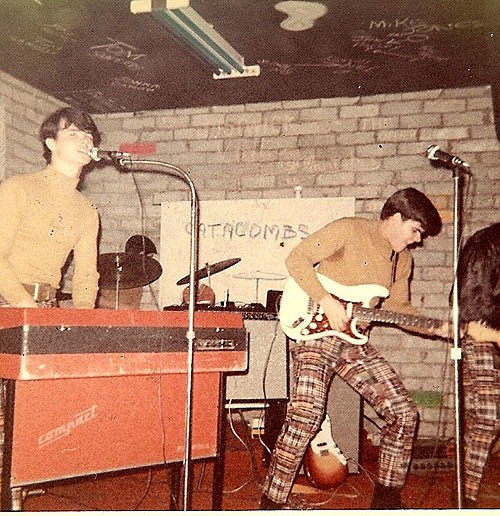 The Pastels perform at the Catacombs
Application for The Catacombs. The club had no liquor license.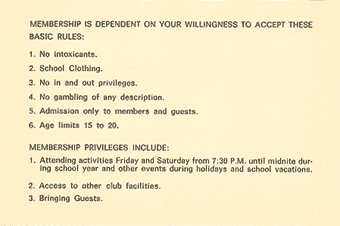 ---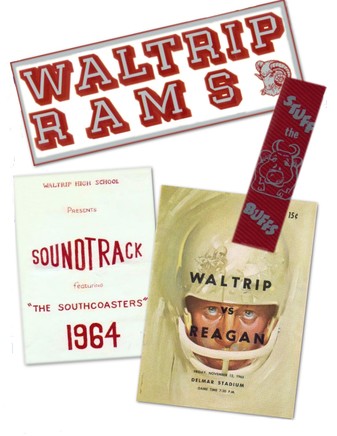 http://www.waltrip67.com/class_gallery.cfm?gallery_link_id=12773